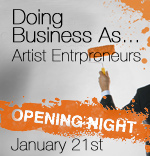 I have been invited to participate in an Art Show called Doing Business as… Artist Entrepreneurs. It will be held at Gallery 6 in the Ft. Lauderdale Main Library on Andrews Avenue. The exhibit runs January 11 thru February 21st. The opening is Wednesday, January 21st from 5:30 – 8:00 pm. All are welcome.
Website: ArtistsDoingBusinessAs.com
LeeAnna Yater, the Broward Cultural Arts grant recipient for the project will be curating the show with the assistance of Artist as Entrepreneurs Institute graduates: Virginia Fifield and Jacklyn Laflamme. They have selected 10 AEI graduates (including Yater, Laflamme, & Fifield) to display artwork in this exhibition.
* Virginia Fifield – drawings
* LeeAnna Yater – fiber art
* Jacklyn Laflamme – paintings
* Rod Appleton – paintings
* Michele Guarino – photography
* Katie Deits – sculptures
* Steven Sylvester – 2d sculptures
* Susan Clifton – paintings
* Gerard Delaney – paintings
* Kevin Kichar
* Michelle Riu